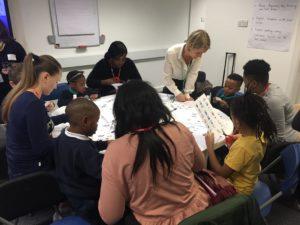 The aim of the project is to develop a new model of integration education for immigrant mothers. This model will enable to go through the integration courses more quickly than in the traditional education system. The model will support Finnish language learning and integration in the society. It will give new possibilities for immigrant mothers for socializing / communicating with Finnish people. The new model aims to give to immigrant mothers, who are staying at home with their children, a possibility to learn Finnish while they are at home. Language skills will enable them to enter to vocational studies or working life more quickly. At the same time, mothers can support their children in language learning and in integration into the Finnish daycare and school systems.
The project activities will be carried out in two phases in two years. In the first phase, mothers will study Finnish language and basic mathematics with their children in school (Länsimäki, Vantaa). Mothers will go through skills assessment and based on the assessment they will be directed to studies of social and health care, catering field or cleaning services. Based on the assessment also other education fields in Edupoli or in other educational institutions are possible.
In the second phase of the project, the immigrant mothers will start their vocational studies. Vocational studies will be carried out at work places where theoretical part of the studies goes closely together with practical on the job learning in a real working environment. This method supports further employment of the students. Language studies are also combined with the on the job learning. Vocational studies of the immigrant mothers are qualification oriented so they aim at graduation or at certificates of passed qualification modules.
In addition to the new education model, our project aims at improving the tutoring skills of the staff of the working places in workplace oriented learning method and their ability to work with people from different cultural backgrounds. The trained staff will enhance the immigrant mothers in achieving good learning results and finally in successful employment.
Similar Parents to School project
Vanhemmat mukaan kouluun sivut / Äidit mukaan hankkeen rinnakkaishanke